This
post
was originally published on
this site
https://cdn.prdaily.com/wp-content/uploads/2018/12/Happy_holidays_Card.jpg
Forget the festive photo of your staff or that handwritten holiday card: This year's trend is holiday video greetings.
The move is fitting, considering that videos and other moving images are continuing to grow in popularity for PR and marketing pros looking to stand out in a sea of content.
Here are five takeaways from several festive clips:
Make it personal.
Filtered Media shared a video holiday card wishing recipients happy holidays and sharing the agency's successes (and its plans for 2019):
The effort shows that you don't have to go big to use video content—and doing so can go a long way toward boosting your authenticity.
By offering a greeting video, you can capture your audience's attention and make your messages seem more personal, as if you were sitting face to face with each viewer.
Showcase your staff.
G&S Business Communications took a nod from content produced by media companies such as Buzzfeed for its holiday greeting. In a series of shots, the agency's staff tries fruitcake, sings a Christmas carol and shares what the holiday season means to them:
Champion Management sent a video card that showcased its workforce lip-synching Queen's "We are the Champions":
Both videos show the individuals responsible for viewers' work and reveal the human side to what can come off as faceless PR and marketing firms.
Don't forget to include your employees in your messages. They can be an outstanding source of your organization's stories while becoming influential brand ambassadors. Your staff members also help make your interactions with your audience members more personal.
Be subtle with your branding.
Owens Community College showed off its program offerings and activities—such as science, sports, apprenticeships, nursing, culinary and art—with its holiday video:
The content is similar to a recent YouTube clip by Improv Everywhere, which was sponsored by Target:
Both videos focus on their festive messages yet retain recognizable branding.
In Improv Everywhere's video, Target's distinctive red color is the focal point, and the music aligns with its current TV and online commercials. In Owens Community College's greeting, a notebook, an award and other items are emblazoned with the school's name—but there is no "in your face" marketing message about its programs.
PR and marketing pros can take a page from these efforts and incorporate more subtle branding into their content. Doing so can help your messages resonate with your audience and make them more sharable.
Make it interactive.
Construction company Ogilvie Group sent customers a game that requires players to navigate Santa through towers of presents:
"It's become an annual tradition with lots of people competing for the top spot," says Toby McColl, director at 45 Digital, the agency that helped create the interactive greeting.
Though not offering a video, The Brownstein Group sent its clients a landing page featuring a festive GIF, which led them to an activity.
Instead of telling its own story, the agency invited viewers to create their own. The holiday greeting enables you to create "religiously ambiguous" carols or stories based on two classic Christmas films:
By getting viewers involved, you help them make a stronger connection with your organization. You can also capture their attention for a longer period of time. Though calls to action are crucial for PR and marketing pros, you can make your messages more enticing and fun if you offer an activity or challenge.
You don't have to go big or go home.
Red Fan Communications also employed a GIF in its holiday card: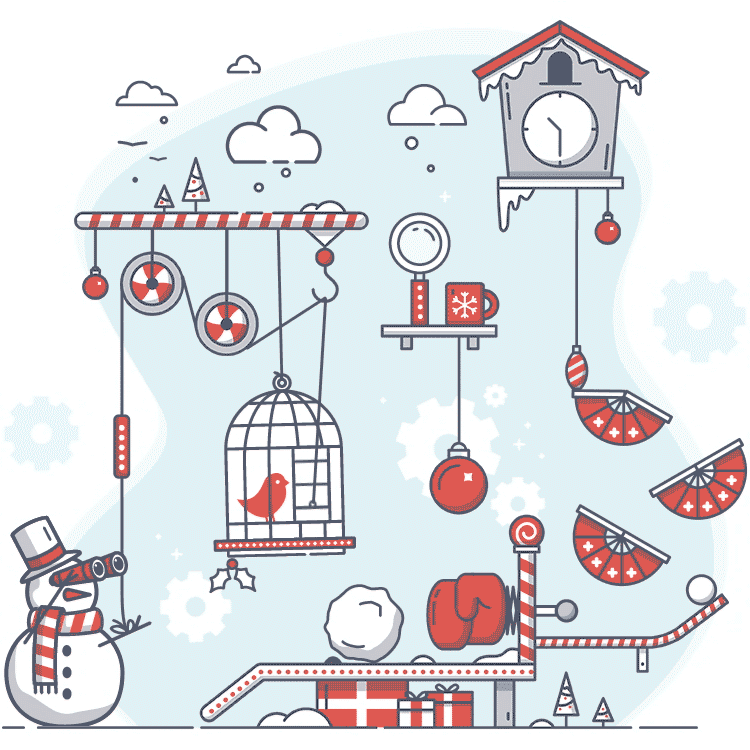 If you want to embrace video content but are at a loss at how to craft your own, consider adding GIFs to make your content stand out. They can punch up an article or social media post with eye-catching movement without potentially high video production costs.